Slow life by the Chao Phaya river
Rejuvenate your special moment within the relax and soothing atmosphere of IngNatee Resort, surrounded by a tropical farm of Pathum Thani while enjoying your peace of mind under the blissful surrounding of the Chao Phraya river bank.

Community tourism which is sharing the natural resources of a local community with visitors from home and overseas for the sustainable benefit of that local community while conserving the natural environment and respecting the way of life
ROOM TYPES
Total of 11 villas. Each villa has the same size (62 m2), including one bedroom, a living room with separated kitchenette, an over-sized bathroom with specially designed bathtub and separated shower area. Thai's style balcony in the front and a private terrace in the back.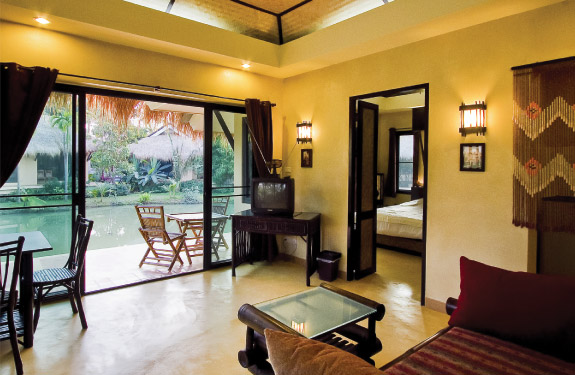 DELUXE LAGOON VILLA
Only 1 villa with 1 King bed
Overlooking passes an open-air through a most beautiful balcony which extends to the middle of the lotus pond without any obstruction.
weekday ฿ 2,900/ night
weekend ฿ 3,100/ night
BOOK
NOW!!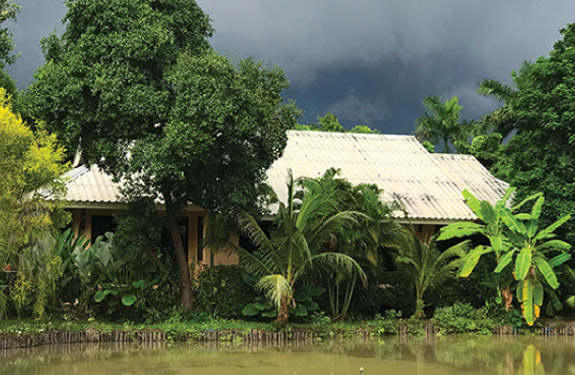 SUPERIOR LAGOON VILLA
5 villas with 1 King bed
Relax in the cool breeze and a peaceful atmosphere, surrounded by lush greenery in a balcony which facing to the lotus pond.
weekday ฿ 2,600/ night
weekend ฿ 2,800/ night
BOOK
NOW!!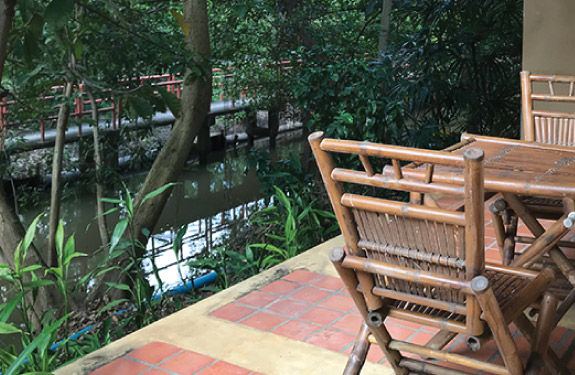 SUPERIOR FARM VILLA
5 villas with 1 king size bed or 2 twin beds
Soak up with peaceful ambiance and feel retreated in the balcony that faces the small canal which connected to Chao Phraya River.
weekday ฿ 2,600/ night
weekend ฿ 2,800/ night
BOOK
NOW!!
FACILITIES
To ensure a pleasant stay for guests. Guest can enjoy on-site features like free Wi-Fi in all resort area, daily housekeeping, luggage storage, free paddle boat in the lotus pond, free bicycle for cycling around and so on.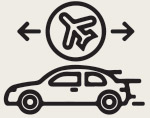 Airport pickup (Extra charge)

Salt-chlorinator
swimming pool

Daily housekeeping

Room service

Open-air reception

Mushroom restaurant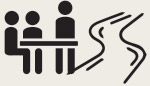 Riverfront meeting room

Eco Farm / Garden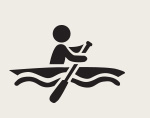 Row Boat in Lotus Pond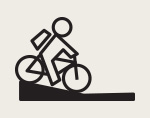 Free Bicycle Rental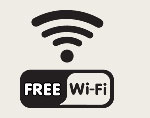 Free Internet Access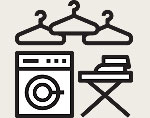 Laundry Service (Extra charge)
Reservation policy
• Service rates are calculated in Thai Baht.
• Reservation must be paid in advance of 50% of the room price booked. Can pay by the following credit cards Visa, MasterCard, JCB, UnionPay or pay online to Bangkok Bank on behalf of Sand Riverside Co., Ltd. Account number 011-702-1493 or pay with Paypal.
• All bookings must be guaranteed and paid with the correct payment details that can be billed. If the payment details are incorrect the booking person will not receive a booking confirmation.
• If the booking deposit has been paid by money transfer Please send proof of payment to Line at: @ingnatee or email at ingnateeresort@gmail.com Along with calling to notify the resort staff will check the balance from the system and confirm the reservation.
• Please bring proof of payment and show on the day of your arrival. The remaining expenses will be paid on the day of arrival.
Amendment or cancellation of reservations Policy
• Amendments or cancellations must be made in writing to the resort via official email (ingnateeresort@gmail.com) or write info in the contact form on the website.
• Modification of reservations can be done with written notice within 48 hours = 2 days before arrival (The amendment is subject to room availability and may incur additional charges)
• Any amendment resulting in a rate that is less than the number of nights or number of rooms, the resort reserves the right to not return the deposit.
• Cancellation of reservations If less than 48 hours in advance = 2 days prior to arrival, the resort will charge 1-night rate.
* Changes of booking during Songkran Festival, Christmas and New Year periods are not allowed.
No-show occupancy or reduced occupancy Policy
• No-show on the date of arrival notice, without written notice and no acknowledgment from the staff of the resort. The resort will charge the full amount of the room rate.
• Reducing the duration of stay or return the room before the reserved date will be additionally charged from the actual arrival date of 1 more night.
Resort rules of stay
• Pets are not allowed.
• Tent, camping, bonfire, party, fishing or any kind of cooking are not allowed within the hotel rooms and the surrounding resort area, including the riverside area
• Do not make loud noises to disturb other people, especially after 20.00 hrs.
Check In / Check Out Time
• Check in time : 14.00 hrs.
• Check out time : 12.00 hrs.
• If staying before the specified time, 50% of the room rate will be charged (before 10.00 hrs.)
• If leaving after the specified time between 12.00 -15.00 hrs., Charge 500 baht.
• If leaving between 15.00 -18.00 hrs., will be charged 50% of the room rate.
• And if leaving after 18.00 hrs, the full day rate will be charged
Child Policy
• Baby cot available at an extra charge of 500 baht / crib / night
• For children under 10 years of age, in the case of not using extra futon. No additional costs
• For children over 10 years old, considered as adults will have to use an extra futon with the cost of 500 baht / futon / night (including breakfast).
Policy regarding number of guests
• Determine the number of guests in the Deluxe Villa and Superior Villas is 2 adults / villa
• Number of guests can add a maximum of 1 person / villa. There will be an extra futon fee of 500 baht / futon / night (including breakfast).
Smoking policy
• Smoking is not allowed in the room.
• Smoking is allowed on the balcony of the room. And in the area that the resort has prepared.