There are many tourist attractions in Samkhok district, Pathum Thani and around that will make your visit enjoyable.
Anyone who wants to find a place to chill out and escape from a busy day in a typical way that doesn't have to drive far. You can plan your trip with the whole family. We recommend heading straight and getting to Pathum Thani province which is very close to Bangkok with variety of the tourist attraction in Pathum Thani. You can go sightseeing in a variety of ways.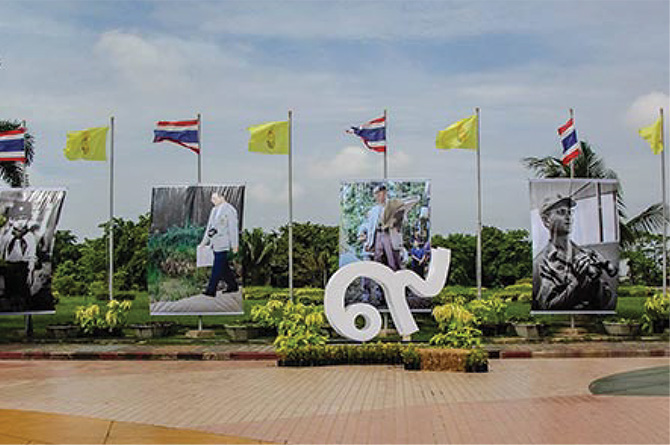 The Agricultural Museum in honor of His Majesty the King
The Agricultural Museum of HM the King Is a museum that disseminates the genius of the Thai monarchy and the relationship in agriculture from the past to the present Which is located on an area of more than 200 rai, which will exhibit an exhibition to educate about the Royal ProjectRoyal duties And various ceremonial projects related to agriculture, divided into 2 major parts, namely museums in the building Presenting the talents of His Majesty King Bhumibol AdulyadejIn agriculture and Thai agricultural ways through modern integrated media And the outdoor museum Which is a learning base for various farming

Admission rate: 50 baht for adults, 30 baht for children (in case of visiting one building)
Location: Opposite Karnun Vejthanakorn Hospital, Khlong Nueng Sub-district Klong Luang DistinctPathum Thani Province
Open-close time: Open Tuesday - Sunday (Closed on Mondays and public holidays) from 09.00-16.00 hrs.
Website and Facebook: www.wisdomking.or.th, Chaloem Phra Kiat Agricultural Museum
Chai Thing Coffee Shop
Chai Thung Coffee Shop Is a coffee shop that HRH Princess Maha Chakri Sirindhorn Princess Maha Chakri Sirindhorn His Majesty King Bhumibol Adulyadej is open to be a compact coffee shop. Outside is a single storey white building. Surrounded by large and small trees Beautifully decorated and designed A combination of Thai and modern style Serving a wide variety of drinks and menus With delicious homemade desserts The back of the shop also has a fish pond, a demonstration plot, a vegetable garden plot. And herbal plot To walk in to study together as well
Location: Urban Community Agricultural Learning Center Project in Sulfur Soil Area Rangsit-Nakhon Nayok Road, Bueng Yitho Subdistrict, Thanyaburi District, Pathum Thani Province
Open-close time: Open daily from 07.30-17.30 hrs.
Facebook: Chai Thung Coffee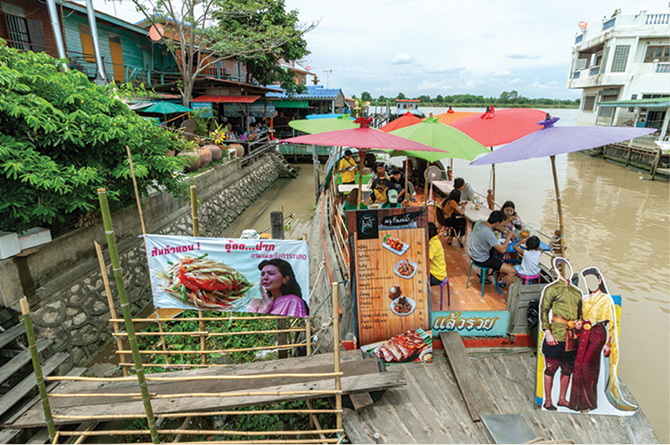 IngNam Sam Khok - River Front Market
Ing Nam Sam Khok Market Is a lovely atmosphere market According to the simple way of the villagers Located along the Bang Toei Canal and the Chao Phraya River Within the market is an old community Houses are traditional wooden row houses. There are many delicious things to eat. Along with a grocery store selling antique products To get back together In addition, there is a waterfront coffee shop. Good atmosphere waterfront restaurant Stop and chill out again
Location: Bang Toei Subdistrict, Sam Khok District, Pathum Thani Province
Open - Closed time: Friday - Sunday from 09:00 - 15:00 hrs.
Facebook: Ing Nam Sam Khok Market Old Market Village, Bang Toei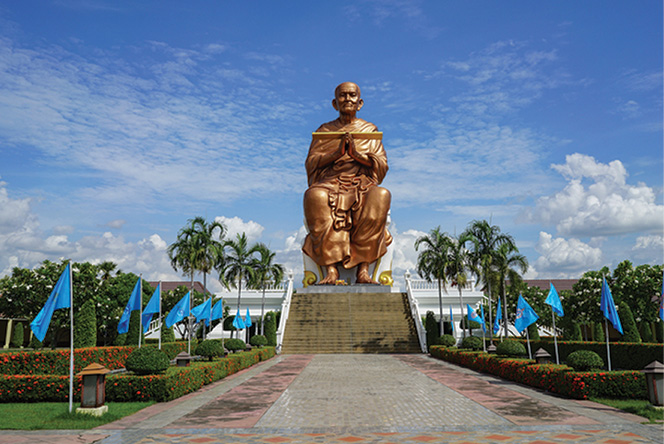 Wat Bot - Temple
Wat Bot is located along the Chao Phraya River bank. This old temple is a center of the minds of people in Pathum Thani Province With a sacred Buddha image, Luang Pho Lueang enshrined there is also a statue of Somdej Phra Phutthachantotrom, a large body that is up to 28 meters high, allowing Buddhists to come and pay homage to the blessing. Enshrined near Luang Pho ToIn addition, there are archaeological sites. And antiques Along with many other sacred things to be able to merit and add merit to the donator.
Location: Bang Krabue Subdistrict, Sam Khok District, Pathum Thani Province
Facebook: Wat Somdet Toh, Luang Pho Sothon, Sam Khok, Pathum Thani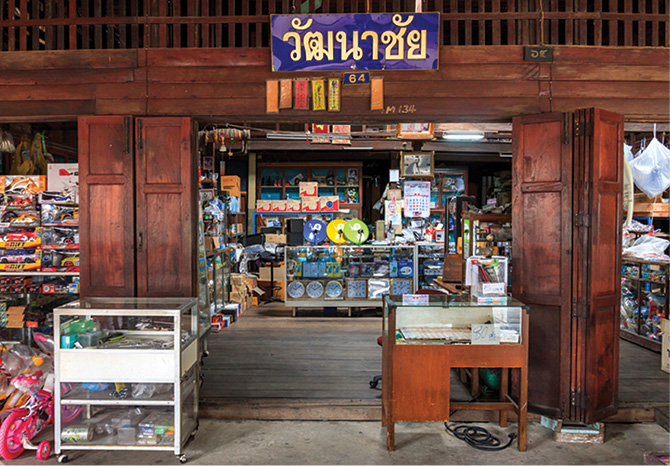 Rift 100 years market
The 100-year-old Rift Market is located in an old community along the Rift Canal. The house is a row of old wooden houses over 100 years old. The cozy atmosphere is characterized by an antique grocery store. Along with the old restaurant that serves but delicious food such as Pae Phochana, Akong Miang Kham Ikqi Shop Ancient noodles, Ta Phong etc.
Location: Tambon Rahaeng, Lat Lum Kaeo District Pathum Thani Province
Opening-closing time: Shops will be opened only Saturday-Sunday.
Facebook: The 100 Years Rift Market, Pathum Thani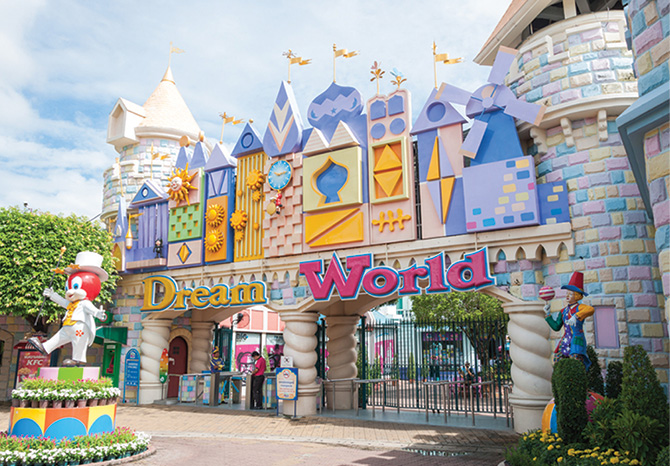 Dream World - Amusement park
Dream World is one of the most famous amusement parks and zoos in Thailand. With an area of more than 160 rai, consisting of many entertainments Including water park players, zoos, large lakes Interesting things such as snow town, tornado, hurricane, sky caster, Viking, grand canyon, super splash, haunted castle, cable car, barge boat, bike Water, etc. There are shops, restaurants, and facilities.

Admission rate: start child 200 baht, adult 250 baht
Location: 62 Moo 1, Rangsit-Ongkharak Road (Km. 7), Bueng Yitho Subdistrict, Thanyaburi District, Pathum Thani Province
Open-close time: Open daily Monday-Friday from 10.00-17.00 hrs. Saturday-Sunday from 10.00-19.00 hrs.
Website and Facebook: www.dreamworld.co.th, Dream World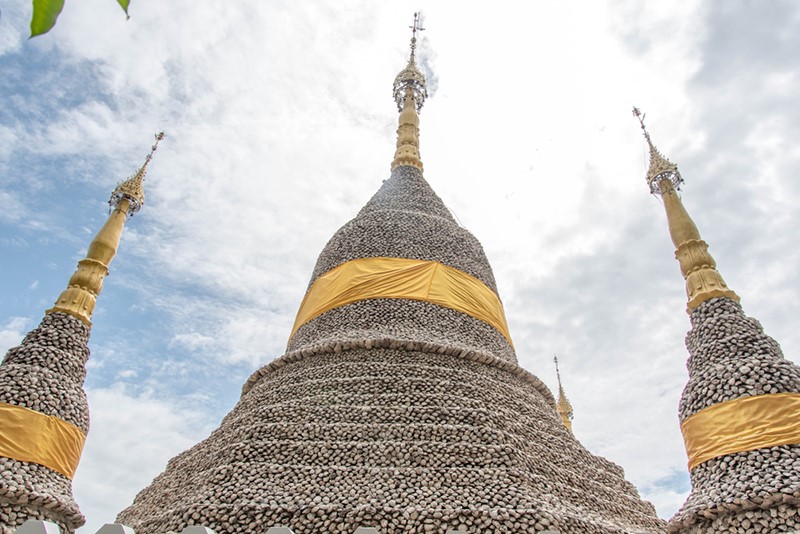 Wat Chedi Hoi :Visit the 8 million giant clam cemetery and the ancient antique museum.
Wat Chedi Hoi is a temple known for being the site where gigantic oyster fossils, calculated to be millions of years old, were discovered. The abbot, LuangphoThongklueng, built a Chedi (or stupa) at the entrance of the temple with the special fossils. Inside the compound is also a museum collecting Buddha images, artwork, antiques, and many old utensils such as Sam Khok water jars, pottery and engraved wood. An herb garden as well as turtle and fish ponds provide scenic spots to relax and even feed the animals.

Location : Bo Ngoen, Lat Lum Kaeo District, Pathum Thani 12140
Open-close time : Open Daily
Telephone : 02-599-4247, 085-188-9424, 089-025-8031
Website & Facebook : Wat Chedi Hoi
Distance from Ingnatee : 30 Km (40 Mins)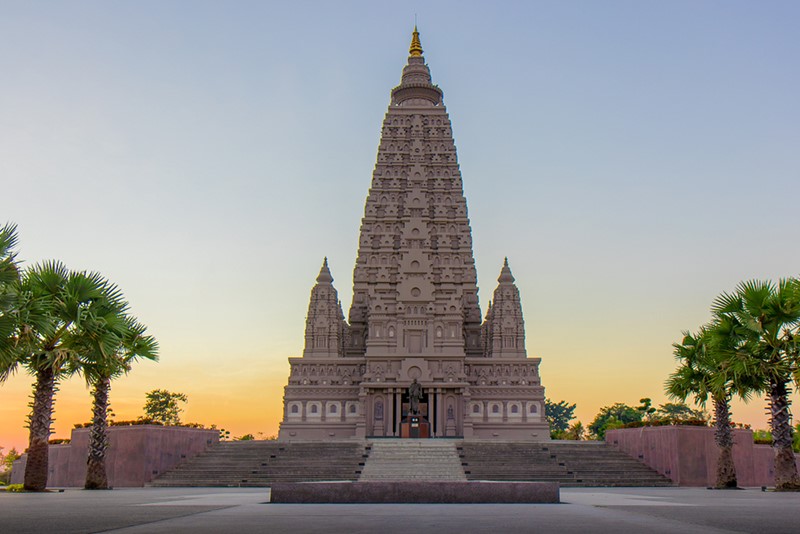 Wat Panya Nantaram :View the first 3D puzzle painting of religious precepts in the world!!
The origins of this Chiang Kham area temple remain shrouded in mystery, its year of construction unknown. The Burmese-style temple is entirely constructed of heavy teakwood, with fine fretwork and carvings at its windows, gables and veranda. Inside is the Phrachao Saen Saeo Buddha image, also made of exotic teak. Visitors can also admire the Tai Yai style of Chedi (or relic shrines), a museum of ancient currencies, antique utensils, and artwork in the form of textiles and paintings. The paintings themselves depict episodes of the Great Birth Sermon, an essential Thai Buddhist story. There is also a 3D sculpture as a puzzle. For all Buddhists to learn Is the first in the world, each picture inserts the teachings of the Buddha in the Four Noble Truths, a reminder to all Buddhists The temple stands near Chiang Kham Municipality Market in Tambon Yuan.

Location : Khlong Hok, Khlong Luang District, Pathum Thani 12120
Open-close time : ทุกวัน
Telephone : 086-461-8353, 02-904-6107
Website & Facebook : watpanya.org, Wat Panya Nantaram
Distance from Ingnatee : 33 Km. (40 Mins)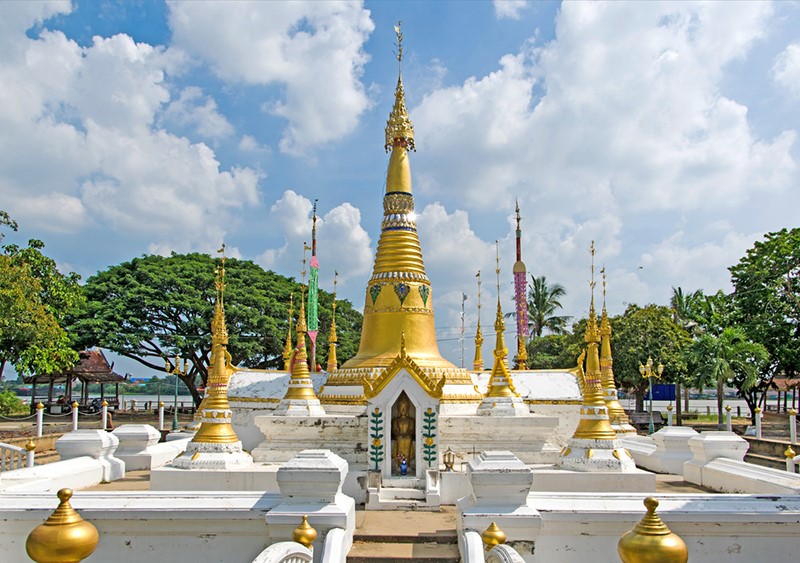 Wat Chedi Thong Temple: Visit Chittagong pagoda with Mon-Raman style, and the White Jade Buddha Or"Luang Pho Khao"
Wat Chedi Thong is a beautiful temple which is located on the west bank of the Chao Phraya River in Amphoe Samkhok. Presumably built from the end of the Ayutthaya period By the Mon who migrated to Myanmar from the city of Mottama The important thing of this temple is the Golden Pagoda, which is a Raman-style pagoda The president's pagoda has golden glittering eyes. Surrounded by a small, beautiful pagoda in addition, there is also a Mon-style Buddha image in the shape of a glass made of jade.

Location : Khlong Khwai, Sam Khok District, Pathum Thani 12160
Open-close time : Open daily
Distance from Ingnatee : 18 Km. ( 20 Mins)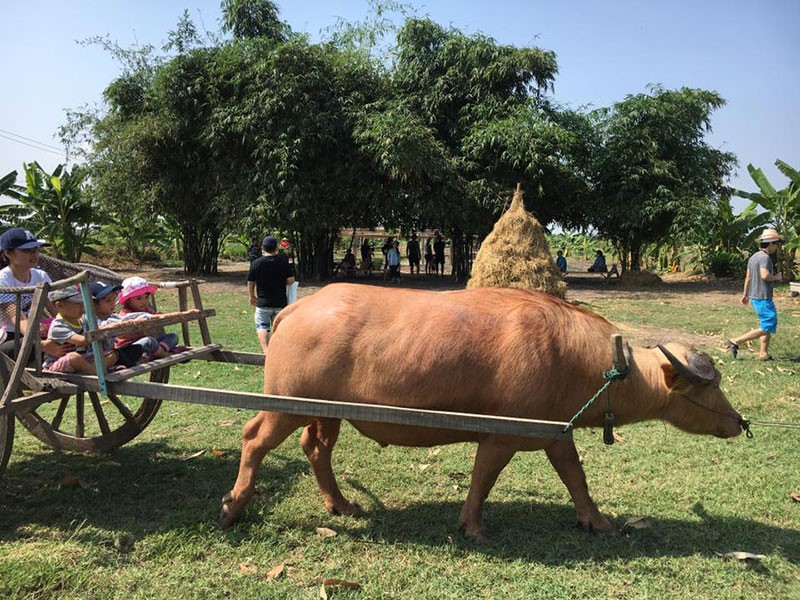 Thani Rice Farm House: Take children to Thai's Rice Farm, learn the farmer's way...know the value of rice
Kru Thani Hom Chuen Rice Farm House is a learning center for rice farming. And living the simple life according to the way of life of Thai farmers Which will allow the general public to visit Thai houses in the central region and learn about traditional farming methods in groups Sometimes it is open to those who are interested to apply for activities on the date and time specified by Teacher Than Hom Chuen, with many activities to do. Whether collecting eggs in a chicken coop Getting to know Thai buffalo Playing an ancient player Real farming, etc. which is suitable for family trips Can follow various activities at facebook Ban Na Kru Thani

ที่ตั้ง : Khlong Hok, Khlong Luang District, Pathum Thani 12120
เวลาทำการ : Open only on the day of activity 09.00-16.00 hrs. Please check details on Facebook
โทรศัพท์ : 02-976-2064, 085-930-4216
Website & Facebook : BanNaKruThani
ระยะทางจากอิงนที : 21 Km. (30 Mins)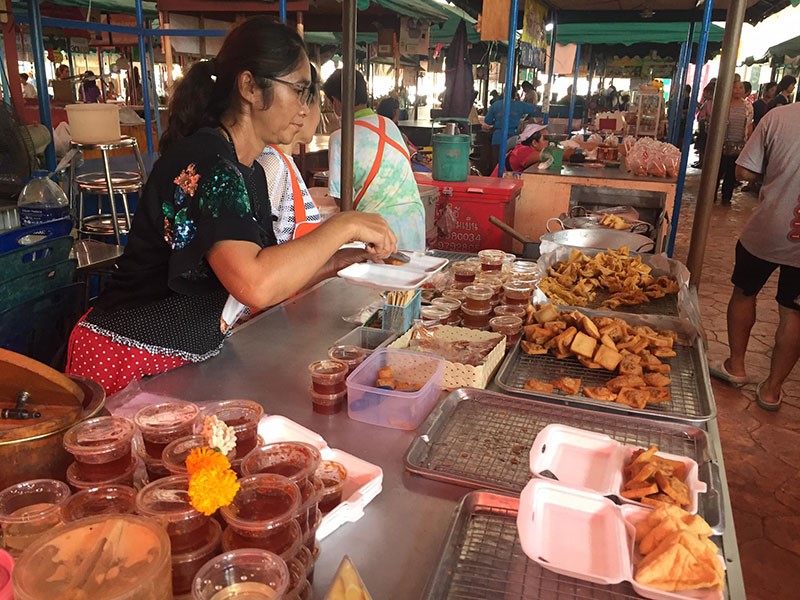 Taste, shop, and satisfy with a variety of food at Wat San Chao Flea Market
River front Flea Market, the Famous Chinese Shrine Temple located on the Chao Phraya river bank. At the mouth of the Khlong Bang Luang, Chiang Rak In the same area as the shrine temple And near to Makham Temple Is an indoor market There are more than 100 stores, a collection of delicious restaurants in Pathum Thani province that are interesting, such as Kui Chai Ton Pho, Kui Chai Cherm, Hormok Tarase, Nai Thong Suk Traditional Noodles, Mae Sang Wiang Satay, Ruan Mai Noodles, Aunt Puffed fried shrimp, etc.

Location : Soi Watsarnjao, Ban Klang, Pathum Thani, Thailand
Open-close time : Open daily from 08.00-14.00 hrs.
Telephone : 086-461-8353, 02-904-6107
Website & Facebook : Wat San Chao Flea Market
Distance from Ingnatee: 11 Km. (20 Mins)